North Tampa Community Club
Robotics Enrichment Program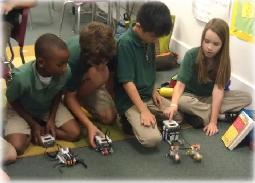 Enrollment is limited to 16 students
The club is open to 3rd grade* and up.
Activity and Description
The North Tampa Community Robotics Club meets on Thursdays (excluding school holidays) for 90 minutes from 6:00 to 7:30 at Messiah Lutheran Church. Membership in the club is maintained on a month-to-month basis.
Under the direction of Coach Shaw, members of the Robotics Club have an opportunity to learn teamwork, engineering, programming, problem solving, and critical thinking skills all while having fun! Students learn important STEM (Science, Technology, Engineering, and Math) concepts that can help them throughout their academic and professional careers. Club members will use LEGO® MINDSTORMS® and other robotics tools to build robots and machines, program them to perform specific tasks, troubleshoot problems, and refine their strategies to address practical challenges. The cost is $80 per student per month.
Beginners start with the basics using tutorials and our special curriculum. They learn sound construction methods, programming and become familiar with the various components of the MINDSTORMS system. Once they have mastered the essential concepts, they'll discover increasingly sophisticated designs by building robots to complete a number of project-oriented tasks, each designed to improve their programming and engineering skills. Sometimes each group will work on particular projects such as animal themed robots or our ever popular battlebots challenge while at other times the entire club will be engaged in a higher level challenge. Some of the activities encourage participation by parents.
We organize the kids into small groups based on age and experience. Each group chooses the challenges they wish to pursue. They will engage in other related activities to build teamwork and allow them to interact outside of their immediate groups. Parents are welcome to stay to help out during meetings. Periodically, we will engage in group projects that everyone participates in.
About the Coach

Coach Shaw has led both competitive and non-competive LEGO programs since 2006. In 2010, he was recognized as the Florida Mentor of the Year for his work with FLL®. Through the school year, Mr. Shaw offers after school enrichment programs at numerous public, private and charter schools. In 2013, he founded Inspiration Labs, a non-profit organization with a mission to provide technology education for both students and adults.
Complete the enrollment form below. If enrollment exceeds the maximum of twelve students, students will be placed on a waiting list until spots become available. Once we have exhausted the waiting list, we will reopen enrollment for future sessions. Dues for the club are $80 per month. We prorate months with fewer than four meetings at $20 per meeting.
After completing this page, your child will be pre-registered for our program. Registration is complete once payment has been received. On the next page, if there is space in the club, you'll have the opportunity to pay online. Otherwise, you'll automatically be placed on the waiting list. Either way, you'll receive a confirmation email with your start date (typically the first meeting of the upcoming month).