Enrollment is now open for summer robotics camp, community club programs and our new 3D Robotic Maker Program!

Give the gift of a rewarding summer camp experience to someone you love! Pick up a gift certificate for our summer camp program now for that special kid in your life!

Welcome!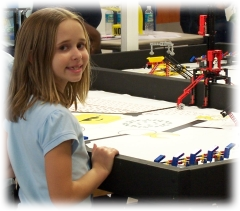 Contact: Bill Shaw, bill@funwithbots.com, 813-249-5522
Want to know when we announce new programs and camps? Sign up for our spam-free, low volume announcement list.

---
We've completely retooled our summer camp program for 2014 to include a host of maker activities themed around LEGO Robotics! Each day, we will be featuring a take home project entirely built by the kids. Each project focuses on a different aspect of robotic technology to reinforce the skills they are learning in camp. Younger kids will engage in age appropriate projects that tap their creativity while building basic foundational skills. Our new 8-14 camp program now includes introductory electronics, CAD design and 3D printing as part of the core camp experience. LEGO® is a great tool for kids to express their ideas but we're taking it to the next level and showing kids what THEY can make.
Kids at all experience levels will have an opportunity to participate in robotics activities using LEGO MINDSTORMS® and LEGO WeDo® robots. Beginners start with the basics using tutorials to learn construction methods, programming and become familiar with the various components of the MINDSTORMS system. Once they have mastered the essential concepts, they'll discover increasingly sophisticated designs by building robots in a series of project-oriented tasks, each designed to improve their design, programming and engineering skills.
We organize the kids into small groups based on age and experience. Each group chooses the challenges they wish to pursue. They will engage in other related activities to build teamwork and allow them to interact outside of their immediate groups. At the end of each camp, we'll have an open house for the families so the kids can show off their creations and tell you all about what they learned. We proudly provide a teacher/student ratio of 8:1.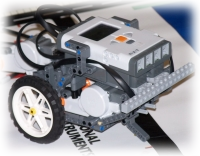 Some of the challenges offered include Battlebots, The Great Ball Chase, competitive and non-competitive challenges, zip line races, and City of The Future. We offer plenty of different challenges, so kids can attend camp more than once if they wish and not repeat the same activities. Robots, computers, and other camp materials are provided and remain the property of the camp and are not available to be taken home by the children.
Most camps have a limited number of spots open to students who have completed first and second grade. Boot camps are available to students ages 9 and up. Morning camps start at 9am and end at noon. Afternoon camps start between 1:00 and 1:30 and end between 4:00 and 4:30. All camps are Monday through Friday. Enrollment is by the week. Select camps now have early drop off and late pickup options!
The cost is $160 per child per half day camp or $320 per full day camp. There is a one-time registration fee of $50 per student for the summer. Each student receives a camp shirt upon arrival at their first day of camp. We limit the number of campers per session and strongly encourage early registration to secure your spot!
Junior Robotics Program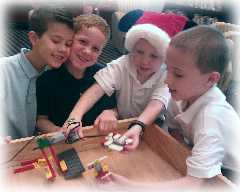 Junior Robotics is a hands-on program designed to capture young children's inherent curiosity and direct it toward discovering and developing STEM skills. Students work with LEGO elements and moving parts to build ideas and concepts. Our junior program is open to students who have completed the first or second grade. Students will work with the WeDo robotics sets with basic MINDSTORMS and engineering challenges. We limit registration for the junior program within each camp to six students. These spots fill up quickly, so don't delay.
Summer Camp Registration Process
The complete registration packet can be downloaded or you can download individual forms from the links located to the right (PDF Reader required). Forms can also be obtained by calling Coach Shaw at (813) 249-5522. Camps are filled on a first come, first served basis.
Each participant must have his or her own registration forms. In the event that the requested session(s) is full, we will offer to place your child on a waiting list and you will be notified when slots become available. Although we make every effort to place each child, there is no guarantee that your child will be placed in a slot if you are waitlisted. In the event we are unable to place your child into our camp program, your money is fully refundable.
For paper registration, please mail your forms and payment to the address on the registration (PO Box 3351, Apollo Beach, FL 33572). If you prefer to register and pay online, please proceed directly to our online registration system. Once you have pre-registered, you'll be presented a form where you can select your desired camp sessions and pay. Please note you must bring a completed registration packet on the first day of camp. Registration is not complete and a spot has not been reserved until payment has been received.
Summer Camp Refund Policy. All refund requests must be made in writing. Requests received prior to March 31, 2014 will be honored less a $50 processing fee. Between April 1st and April 30, 2014, requests will be 50% refunded. After May 1st, 2014, fees are not refundable.
Complete registration by March 31st, 2014 and receive a $30 discount! Registrations must be confirmed and paid in full by the deadline. Register now!
Our Robotics Summer Camp Program makes a great gift! Order a gift certificate online and we'll send you a certificate by mail and invite that lucky kid to register for camp pre-paid! You choose whether to give them a half or full day and they get to select the dates that work best for their schedule. It couldn't be easier!
After you have purchased the gift certificate, we will follow up within 24 hours to find out how and where you want the gift certificate sent. You can also have us delay notification so that we don't spoil the surprise!

---
Our clubs are open to students ages 8 and up with an interest in furthering their knowledge of robotics and building teamwork and social skills. We integrate a full range of STEM concepts into the program by undertaking projects of varying levels. We are currently working on a LEGO Quadcopter and a LEGO CNC Lathe.
Club membership is on a month-to-month basis. The North Tampa club meets at Messiah Lutheran Church in Carrollwood on Hutchison Road just north of Ehrlich. The Lutz club meets on Wednesdays at All Kids Academy near the corner of SR54 and Livingston Road. Download the Complete Registration Packet to enroll. We also have online registration available.
We are offering a special 8 week class at the South Tampa Center for the Arts just for kids ages 8 to 14. We will be designing and making our own robotic creations using computer aided design, 3D printing, and LEGO robotics. This class is open to both boys and girls. Students will engineer, design, and 3D print their own accessories for their LEGO Robotic projects. They'll be able to take their custom printed parts home at the conclusion of the class (the robots remain with the program).
This club begins on April 11th and continues through the end of May. Classes are weekly from 6:00 to 7:30 PM. Online enrollment is now open for the South Tampa 3D Robotic Maker club
About the Coach


Coach Bill Shaw has led FIRST® LEGO League Robotics teams in Florida for six years. He also runs an afternoon robotics program at a number of local schools. In 2010, he was recognized as the Florida Mentor of the Year for his work with FLL®. Mr. Shaw founded and continues to coach the robotics after school program at a number of local public and charter schools as well as community programs for students throughout Tampa Bay.