Enrollment is now open for our community club programs and our new 3D Robotic Maker Program!

Give the gift of a rewarding summer camp experience to someone you love! Pick up a gift certificate for our summer camp program now for that special kid in your life!

Welcome!
Our highly regarded robotics and technology programs are an exceptional opportunity for students to embrace programming and technology. Our hands on programs are loosely structured to allow students the freedom to explore and learn technology such as CAD design, robotics, and 3D printing. Featuring LEGO MINDSTORMS, LEGO WeDo, Arduino, and other technology, students at any level will be challenged while making friends and having fun. We've taught these classes and hosted programs at some of the most prestigious schools in the Tampa Bay area and now offer the same curriculum as part of our community clubs and maker programs.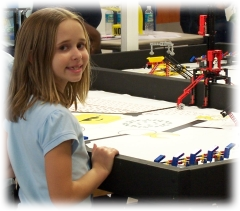 Contact: Bill Shaw, bill@funwithbots.com, 813-249-5522
Want to know when we announce new programs and camps? Sign up for our spam-free, low volume announcement list.

---
Get the details on our updated summer camp program for elementary and middle school students.
Our clubs are open to students ages 8 and up with an interest in furthering their knowledge of robotics and building teamwork and social skills. We integrate a full range of STEM concepts into the program by undertaking projects of varying levels. We are currently preparing projects to exhibit on April 18th at Gulf Coast MakerCon.
Club membership is on a month-to-month basis. The North Tampa club meets at Messiah Lutheran Church in Carrollwood on Hutchison Road just north of Ehrlich. The Temple Terrace club meets on Mondays at Think Tank Tutoring Academy. Download the Complete Registration Packet to enroll. We also have online registration available.
We are offering a special 8 week class at the South Tampa Center for the Arts just for kids ages 8 to 14. We will be designing and making our own robotic creations using computer aided design, 3D printing, and LEGO robotics. This class is open to both boys and girls. Students will engineer, design, and 3D print their own accessories for their LEGO Robotic projects. They'll be able to take their custom printed parts home at the conclusion of the class (the robots remain with the program. Classes are weekly from 6:00 to 7:30 PM. Online enrollment is now open for the South Tampa 3D Robotic Maker Club
About the Coach


Coach Shaw has led both competitive and non-competive LEGO programs since 2006. In 2010, he was recognized as the Florida Mentor of the Year for his work with FLL®. Through the school year, Mr. Shaw offers after school enrichment programs at numerous public, private and charter schools. In 2013, he founded Inspiration Labs, a non-profit organization with a mission to provide technology education for both students and adults.