Enrollment is now open for summer robotics camp, and our community club programs!

Give the gift of a rewarding summer camp experience to someone you love! Pick up a gift certificate for our summer camp program now for that special kid in your life!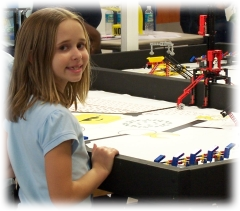 Want to know when we announce new programs and camps? Sign up for our spam-free, low volume announcement list.

---
We've expanded our summer camp program to give students a variety of tracks to pursue. All tracks are centered around LEGO Robotics! For each track, students focus on different aspects of robotic technology to reinforce the skills they are learning in camp. Younger kids will engage in age appropriate projects that tap their creativity while building basic foundational skills. Students in all tracks work cooperatively in small groups (typically 2-4 students per group) to accomplish their projects. Throughout the week, we offer other related activities to provide the students opportunities for personal creativity and expression. Grade levels represent expected enrollment for 2017/18 school year.
Beginning Robotics (Grades 4+)
This track is for students with no prior experience building and programming LEGO MINDSTORMS® robots. Beginners start with the basics using tutorials to learn construction methods, programming and become familiar with the various components of the MINDSTORMS system. Once they have mastered the essential concepts, they'll discover increasingly sophisticated designs by building robots in a series of project-oriented tasks, each designed to improve their design, programming and engineering skills. Students will also be introduced to 3D modeling and printing.
Robotics Maker Track (Grades 4+)
LEGO® is a great tool for kids to express their ideas but we're taking it to the next level and showing kids what THEY can make. Students will build robots based on a central theme and enhance them by designing their own parts and 3D printing them. We'll introduce a new theme each week. As the students build their skills, they'll have the chance to explore other technology such as Arduino, introductory electronics, CAD design and 3D printing as part of the camp experience.
Software and Coding Track (Grades 4+)
For students interested in learing more advanced coding than the regular robotics track, these students will learn more advanced concepts such as control structures, writing reusable code, and designing larger scale applications. We'll start with programming the robots and then move on to other coding platforms such as scratch, python, and more. Students work at their own pace. Students must provide their own laptops to participate in this track.
Competitive Robotics Track (Grades 4+)
For students interested in a more rigorous progam, our competitive track teaches necessary skills for robotics competitions such as FIRST® LEGO League® and the VEX IQ Challenge. Students begin by learning sound engineering techniques designed to help them build more reliable robots and then move on to navigation skills, problem solving, and object manipulation. We'll end the week with a fun competitive challenge.
Beginning Junior Robotics (Grades 1-3)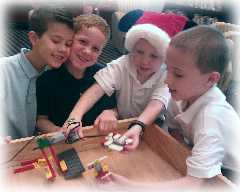 Our junior program centers around the LEGO WeDo® robotics sets. Students learn the basics of simple machines and programming by building moving models including animals, silly contraptions, and more. This is a wonderful introduction to robotics that takes kids past simply building and lets them easily control the behavior of their creations by building programs on screen by snapping together action, control and sensor blocks using the intuitive WeDo software.
Junior Robotics Challenge Track (Grades 1-3)
Once junior robotics students have mastered the basics, they'll be challenged to create models of their own design in keeping with the theme of the camp. These designs can be enhanced with crafts and models 3D printed right there as they watch. For students with an interest in the design process, we'll introduce them to basic 3D modeling so they can make their own parts.

Kids at all experience levels will have an opportunity to participate in robotics activities using > and LEGO WeDo® robots.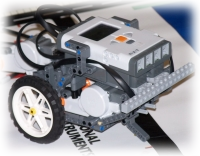 Some of the challenges offered include Battlebots, The Great Ball Chase, competitive and non-competitive challenges, zip line races, and City of The Future. We offer plenty of different challenges, so kids can attend camp more than once if they wish and not repeat the same activities. Robots, computers, and other camp materials are provided and remain the property of the camp and are not available to be taken home by the children.
Most camps have a limited number of spots open to students who have completed first and second grade. Boot camps are available to students ages 9 and up. Morning camps start at 9am and end at noon. Afternoon camps start at 1:00 and end at 4:00. All camps are Monday through Friday. Enrollment is by the week. Select camps now have early drop off and late pickup options.
The cost is $175 per child per half day camp or $320 per full day camp. There is a one-time registration fee of $20 per student for the summer. Each student receives a camp shirt upon arrival at their first day of camp. We limit the number of campers per session and strongly encourage early registration to secure your spot!
Dates and Locations
Our camps for 2018 will be posted Q1 2018.
Summer Camp Registration Process
Please proceed directly to our online registration system. Once you have pre-registered, you'll be presented a form where you can select your desired camp sessions and pay. Please note you must bring a completed registration packet on the first day of camp. Registration is not complete and a spot has not been reserved until payment has been received.
Summer Camp Refund Policy. All refund requests must be made in writing. Requests received prior to March 31, 2017 will be honored less a $50 processing fee. Between April 1st and April 30, 2017, requests will be 50% refunded. After May 1st, 2017, fees are not refundable.
Our Robotics Summer Camp Program makes a great gift! Order a gift certificate online and we'll send you a certificate by mail and invite that lucky kid to register for camp pre-paid! You choose whether to give them a half or full day and they get to select the dates that work best for their schedule. It couldn't be easier!
After you have purchased the gift certificate, we will follow up within 24 hours to find out how and where you want the gift certificate sent. You can also have us delay notification so that we don't spoil the surprise!

---
About the Coaches


Coach Shaw has led both competitive and non-competive LEGO programs since 2006. In 2010, he was recognized as the Florida Mentor of the Year for his work with FLL®. Through the school year, Mr. Shaw offers after school enrichment programs at numerous public, private and charter schools. In 2013, he founded Inspiration Labs, a non-profit organization with a mission to provide technology education for both students and adults.

Shauna Beasley, certified International Baccalaureate, K-12, ELL and Gifted teacher, has worked with students of all ages. She is recognized by Hillsborough County Schools as one of the top 10% of all teachers for the entire district. Ms. Beasley provides an engaging curriculum and provides a nurturing environment for all students to allow them to reach their potential and express their creativity.